We're fast approaching that one day a year when everybody celebrates Irish green. Even those who have no Irish roots to speak of will commence with the traditional wearing of the green, drinking of the lager, and dancing of the traditional Irish I've-had-one-too-many-and-I'm-walking-home-anyway jig. But as we arrive at this greenest time of year, have you considered adding a little more green to your naughty drawer?
No, I don't mean actually buying sex toys that are the color green although there are some great options to choose from there too(check out the Liv from LELO for a beautiful example). The green toys I'm referring to are the ones that might help put a smile on the planet's face while they're putting one on yours. Here are some terrific examples from EdenFantasys green collection of environmentally friendly toy options:
The Bloom vibrator by leaf is 100% silicone and comes in recycled packaging. It's rechargeable so you can enjoy it knowing that you're saving on energy and battery waste.
Glass toys like the Hearts wand are 100% recyclable and body safe too! Not to mention that they're great for temperature play and won't break your budget.
If you want to reduce your carbon footprint or are planning to go off the grid entirely you can try out the Solar Bullet which recharges in eight hours to give you sixty minutes of vibrations. No zombie apocalypse survival kit should be without one!
For the next few days you can even save a little of your leprechaun gold by using the coupon code POTOFGOLD to save 20% off your entire order (no restrictions). You don't have to be Irish to get lucky with a new planet-friendly and body-safe toy from EdenFantasys.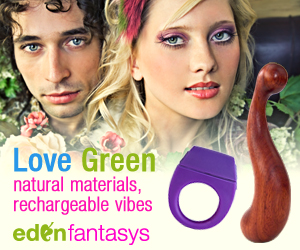 Time to fess up for the FTC: Yes, I did write this post in exchange for gift cards from EdenFantasys but that makes its content no less true or accurate. Honest.